The Beggar's Laugh
by Jythri, Bard and a Wanderer
The beggar was walking,
The beggar was talking,
The beggar was shouting its coming.
The old world was torn,
And new worlds were born,
After the time
Of the Sundering.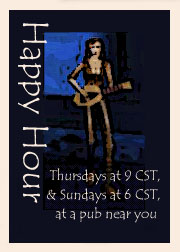 Have you heard a rumour?
Do you have an announcement? Submit your announcements to Copper Compendium.
Do you have something you are trying to sell? Or is there something you're interested in buying? Or are you a tradesperson trying to make a living? Submit your classified ads to Copper Compendium..
The Day the Gods Came to Norrath
One amazing day not very long ago, Norrathians stood face to face with the gods in terrifying encounters all over Norrath. In Nektulos wars raged with Innoruuk and Mathaniel Marr, in Faydark and Crushbone, the Lord of the Orcs was unleashed into the forest, and rumor has it the Gnoll god also reared his head in Norrath. Featured this issue are accounts of the gods in Norrath.
Battle of the Gods
Reported by Pandorae Silverstone
(This particular story is not from Fennin Ro. If you have the Fennin Ro version, we would love to print it)
Three weeks ago, Mithaniel Marr successfully took down Innoruuk in one of the greatest specticals Norrath has seen. Citizens were called to their homes to band together, and travel to freeport, to join Marr's army against the god of hate.
"There it was, Mithaniel Marr, bigger than life standing near the gate," reports Karghan Shadowsmith, "he was rallying his children to fight for him.. and each one of us were released into the realm of discord. We made small groups to get better coordination, and waited... Finally he said "come my children" and started walking towards Nektulos."
Crushbone Unleashed!
Reported by Pandorae Silverstone
There we were in Orc Territory, Svanlaug nervously scouting out the orcs on the top of the hill, trying to determine if we had the brawn and the means to dispatch them. Celebairn and I rested and studied our spell books in preparation for upcoming battles. Bellows were heard all through Crushbone: "Come to the castle! We are taking over the castle." And while I sat still, scratching my head and wondering whether I should join the festivities, new screams and shouts began in a blur: "My God! He is Huge!" "We need help!"
At that point I stood and ran for the side of the hill, peering over the path to the Orish fortress. Soon I noticed the scampering wood elves, dwarves, high elves, gnomes, barbarians, and humans, heading to the entrance of Clan Crushbone. And Lo! There stood Crushbone and his minions!
Leaves and Twigs
On the Way to the Desert
by Elorebaen
As I gather my elusive thoughts into written word I can't help but feel compelled to comment on where and how these events have been recorded. My notes can be as confusing to follow as the paths I take. Like my travels, my records wander from events I witness, sites I see and thoughts I have. All of these experiences I try to hurriedly write down with my trusty quill and parchment. Master Heartwood has mentioned to me, on occasion, that I need more work collecting and conveying my thoughts. I, of course, agree with him although I'll never admit it. Well it seems I become lost in my thoughts yet again. There are many wonders I have seen in Norrath and many I have yet to see. This is only one such experience.
First Issue
Our very first issue is hot off the press! The Copper Compendium is based on an idea submitted by Galeiwyn of Norrath Role Play. We are a branch of Norrath Role Play, will be bringing news from Norrath in Fennin Ro, tales of fellow adventurers, a voice for the sellers and traders, and those most important announcements you have to make. The best part is, we cost only a copper, three coppers less than a jug of milk, a silver and some copper less than a loaf of bread, thousands of coppers less than that fine steel sword. Look for us every second Wednesday!
~ Ed
Brulane's Corner:
All Over But The Shouting
(Out of Character Content)
Newbie1 shouts
'anybody seen my corpse?'
Newbie2 shouts
'where did you die?'
Newbie1 shouts
'somewhere near the 3rd inn in east commons'
Newbie3 shouts
'I thought I saw it near the Orc Centurion camp'
Newbie2 shouts
'meet me by the 3rd inn and I'll help you search'
Newbie1 shouts
'when I find it does anyone want to buy a ruined
pelt?'
This is an example of a dialogue that has appeared in my text window on more than one occasion in the last week. Clearly the "shout" option has many applications as a method of communicating in Norrath. The following article will address not only some of the practical applications of the "shout" chat channel, but also its sometimes unforeseen implications on other role-players.